Ferrata and rock-climbing
The thrill of touching the rock, experiencing the mountain and becoming part of it.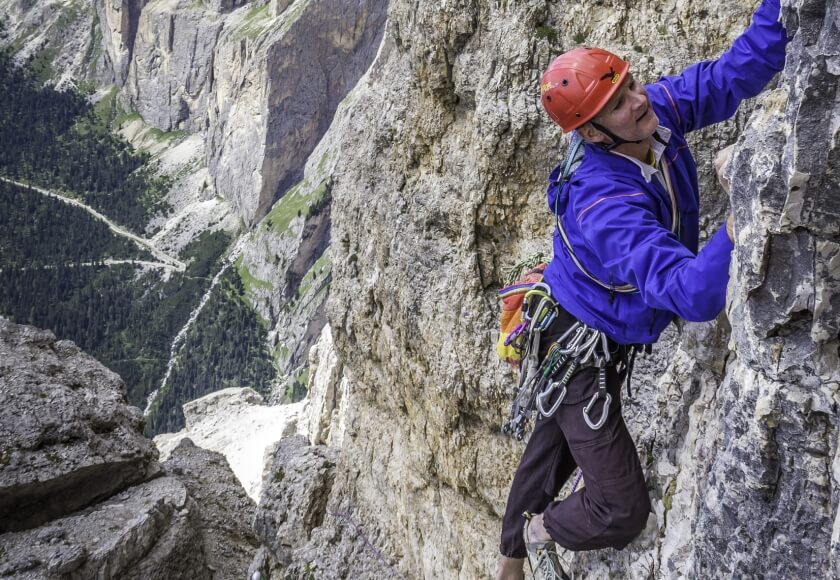 What are Ferrata and rock-climbing?
The via Ferrata and the rock-climbing in Val di Fassa are the desire to touch the sky with a finger, the search for the adrenaline to climb attached to a rope, the desire to conquer the peak and prove to be capable of it.
Rock-climbing
In contact with the rock, you can climb the peaks which only a few can reach. The climbing levels are 5, choosing the right one for you is the first step to take. If you are not sure, you can ask Val di Fassa mountain guides for advice and they can accompany you and help you have a fun and unique experience in safety.
The Ferrata
It takes you to discover the highest peaks, through paths equipped with steel cords and ladders, those paths that make you feel the thrill of walking on a ledge with the cliff underneath and having the security of being tied. On the peaks that surround the Val di Fassa, there are easy or difficult via ferratas, depending on your level.
RODA DE VAEL
Masaré via Ferrata is explained in the morning with the explanation of the equipment, movements among the rocks and techniques. In the afternoon, we venture into one of the most spectacular fixed-rope routes in the Catinaccio!
Santner via Ferrata – Passo Santner. Beautiful Ferrata on the west wall of the Catinaccio with a return to the wonderful Gartl basin, bordered on the left by the Croda di Re Laurino, on the right by the Cima Catinaccio, and in the background of which the slender forms of the Vajolet Southern Towers look amazingly: Delago, Stabeler, and Winkler
Punta Penia della Marmolada by west via Ferrata. The queen of the Dolomites, this is what the Marmolada is called. Crampons and railways, ice and rock. Unforgettable via Ferrata with spectacular views across the Dolomite