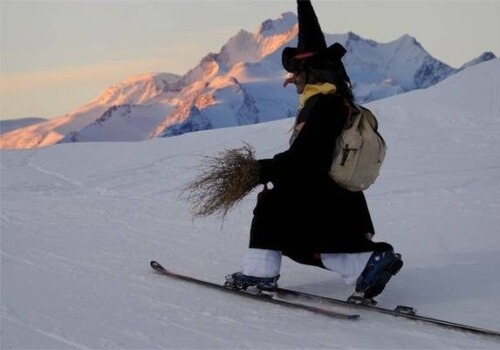 La Befana comes at night
with her shoes all broken
with patches on her skirt:
Long live the Befana!

Do memories resurface? Just a few years ago you were anxiously awaiting the arrival of this old lady: the idea scared you a little....
but in the end, after seeing the stocking full of sweets and goodies, you changed your mind. How many good things she brought you!

Relive those emotions also with your children: on 5 January the Befana will fly with her broom to the Val di Fassa
and the next day she will stop at the Hotel Catinaccio to bring socks to our little guests! We will all celebrate Epiphany together with a nice dinner and start a week of great fun
For 4/5 nights you will continue to experience the magic of the mountains in winter: Christmas decorations, perfect slopes.
For the kids
Who knows what the Befana will bring this year... candies and surprises or a bag of coal?
But not only more surprises await you:

- FAMILY SPA for the whole family
- Wooden board games evening
- Bobsleigh, paddles and an afternoon in the snow to become children again
- Dinner with atmosphere for a different set
The package is half board for a stay of 4-5 nights
Offer valid from 02.01.2024
from € 1687.00 for 3 persons - 5 nights superior room +3 bed
from € 2292.00 for 4 persons - 5 nights triple room + 4 beds
prices valid for children up to 9 years
for older children the price varies
price may vary depending on the type of room offered and period required.